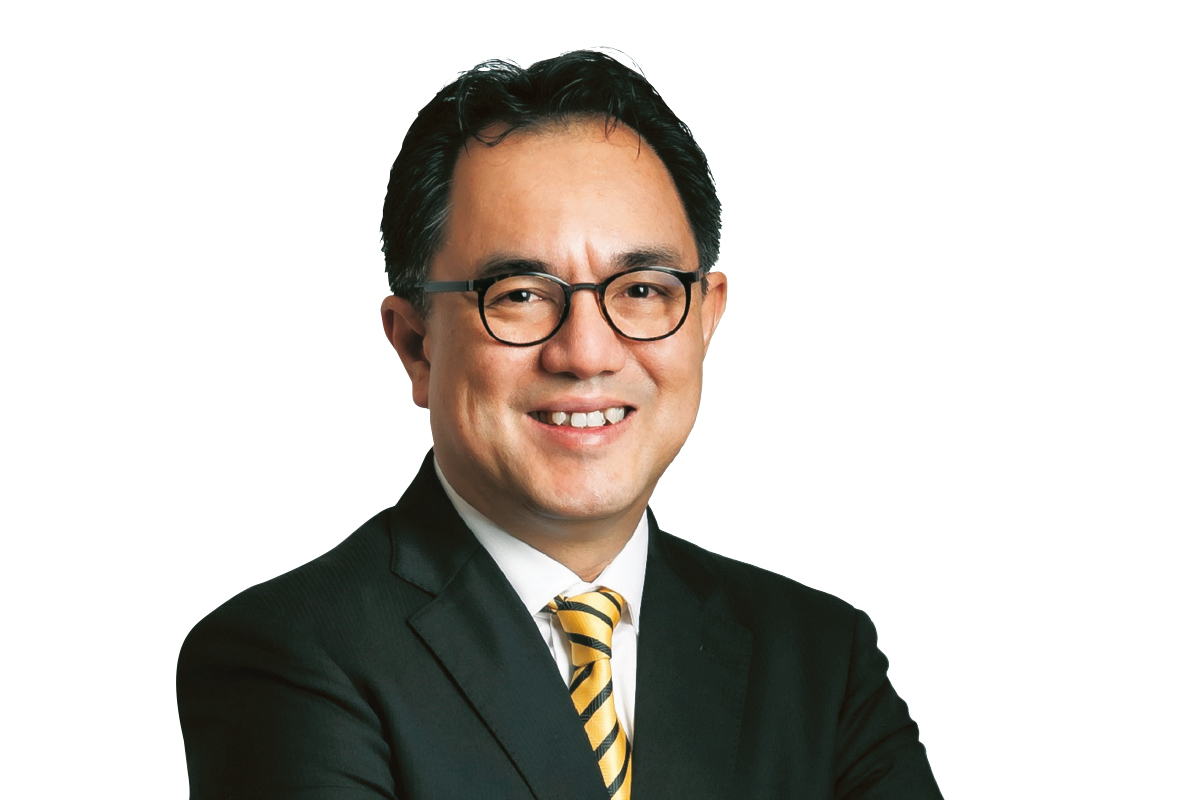 Farid: It is only by looking into the well-being of all our stakeholder groups that we can truly create sustainable and meaningful value for the organisation
Datuk Seri Abdul Farid Alias was a relatively fresh face when he joined the ranks of Corporate Malaysia chieftains upon being named CEO of Malayan Banking Bhd in August 2013.
The then 45-year-old head of global wholesale banking — who beat two other internal candidates for the post — had big shoes to fill, having taken over the helm of the country's biggest lender from Tan Sri Abdul Wahid Omar, who was tapped to join a newly formed Cabinet as senator and minister in the Prime Minister's Department heading the Economic Planning Unit (EPU).
Abdul Wahid (2013 Value Creator: Outstanding CEO of Malaysia) had in 2008 succeeded Tan Sri Amirsham Abdul Aziz, a seasoned banker who started his career at Maybank in 1977 and had helmed it for 14 years before being appointed minister in the Prime Minister's Department heading the EPU in 2008 and chairman of the National Economic Action Council (NEAC) in 2009.
Today, more than eight years on, Farid has proven his worth, especially to people who know how much harder it is for large companies and economies versus smaller ones to keep growing at high single-digit rates or more year after year. As an old Chinese proverb says, "守业更比创业难" (shou ye geng bi chuang ye nan) — keeping a business is more difficult than starting one.
And the business here is not just any business; it is the largest company by market capitalisation on Bursa Malaysia that is a Malaysian icon and today among Southeast Asia's top five banking groups (US$165 billion assets) and the top 500 companies on the Forbes Global 2000 list.
While the pressures of a professional manager differ from those of an entrepreneur, the burden of taking care of other people's money is not to be taken lightly. After all, it was unchecked decisions by a 28-year-old professional manager that brought down Barings Bank in 1995, then one of the world's oldest banks.
It was under Farid's watch that Maybank became the first Bursa Malaysia-listed company to breach RM100 billion in market capitalisation in 2017, for which a special award was conferred by The Edge Billion Ringgit Club to mark the occasion.
Maybank continues to top The Edge BRC members' list in terms of total profits, and shareholders are reaping the rewards. Over the past five years alone, Maybank has paid more than RM30 billion in dividends or an average of RM5 billion a year — more than any listed company here. In FY2020, Maybank declared a dividend of 52 sen per share, a 91.2% payout, but it conserved cash — in line with conservatism signalled by global regulators in relation to dividend payouts by banks during the pandemic — by lowering the cash component to 34% versus an all-cash payout in FY2019.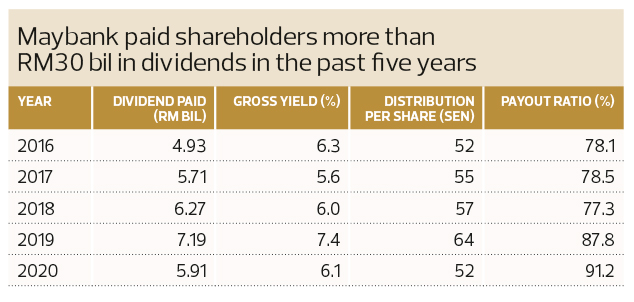 A small-town boy from Negeri Sembilan, Farid rose through the ranks in investment banking, corporate finance and the capital markets riding on his professional training in accounting, finance and management. He is also president commissioner of PT Bank Maybank Indonesia Tbk and vice-chairman of the Asian Institute of Chartered Bankers, and sits on the board of Maybank Singapore Ltd, Cagamas Holdings Bhd and the Financial Industry Collective Outreach.
Apart from Maybank's reach in Malaysia and Southeast Asia, local golf enthusiasts would recognise how the 1962 Malaysian Open had grown by leaps and bounds since the banking group took over the title sponsorship in 2006 and, in 2016, rebranded it as the Maybank Championship, a professional golf tournament co-sanctioned by the Asian Tour as well as the European Tour. This is certainly an area in which Farid, who is a keen golfer himself and has made a conscious effort to make the sport more accessible to a larger group of aspiring players in the country, would want to bring back when practicable post-Covid-19.
During the pandemic, Maybank's two topmost priorities have been to safeguard the well-being of its employees and customers. Knowing full well that many Malaysians would be in dire need of financial aid, Farid told shareholders in Maybank's 2020 annual report that the bank had started offering assistance in terms of restructuring and rescheduling loans as early as Feb 11, 2020 — 1½ months before the first six-month moratorium on loan repayment was announced.
According to Farid, Maybank's presence in Greater China gave it an advantage in terms of knowledge of the severity of the Covid-19 virus "the moment it emerged". "Reacting fast, we put into motion initiatives to brace for the challenges to come. In addition to strengthening our Business Continuity Management framework, we also developed a plan to protect our employees and customers," he says, telling shareholders that Maybank had already had at least 82% of its local workforce (representing half of the group's 42,000 employees) working from home. Assistance was also extended to customers in Singapore and Indonesia, among others.
In his message, Farid assured shareholders that Maybank was entering the pandemic in a position of strength, thanks to its past emphasis on healthy liquidity and capital levels. "While many may have thought we were being overly prudent in the past with our capital position, our strategy proved judicious, as this pandemic showed us how quickly an untoward event can take place and have a lingering effect.
"We entered the pandemic with a Group Common Equity Tier 1 capital ratio of 15.729% as at end-2019 and concluded 2020 at 15.313%," he wrote, noting that the group's liquidity coverage ratio remained stable at 142% as at end-2020, from 141% as at end-2019. While Common Equity Tier 1 ratio slipped to 14.2% in 1HFY2021, analysts reckon its asset base still has room to withstand lingering economic challenges. Asset quality should improve as the green shoots of recovery gain strength.
It looks like Farid is on a roll. After winning The Edge BRC Value Creator: Outstanding CEO of Malaysia 2021 award on Dec 13, he went on to become one of 15 to receive the Sri Sultan Ahmad Shah Pahang (SSAP) award on Dec 14 from the Regent of Pahang Tengku Hassanal Ibrahim Alam Shah Al-Sultan Abdullah, which carries the title "Datuk Seri".
Farid, 53, says the win is not his alone but one of many fruits of the hard work put in by his colleagues and predecessors over the decades to grow the group into an international network of more than 2,200 branches and offices in 18 countries.
"The value creation that Maybank has achieved in the short, medium and long term has been a culmination of the collective effort by all past and present Maybankers. It is the perseverance and hard work of all employees group-wide across our footprint of 18 countries, anchored by our mission of Humanising Financial Services, that have resulted in Maybank expanding, diversifying and growing its revenue sources through its 61 years of history and ensuring the sustainability as well as relevance of this organisation in a rapidly evolving marketplace," he tells The Edge.
"As we move into the next phase of our strategic journey, focusing heavily on digitalisation and sustainability, we will remain customer-centric in our solutions and digital innovations, leveraging data-driven insights, to better serve our existing customers and reach the underserved and unserved segments within the markets we operate.
"We aspire to continue delivering strong shareholder returns, premised on good governance, with the mindset of doing the right thing always — be it in business- or sustainability-led decisions — and remaining true to our core TIGER values [of teamwork, integrity, growth, excellence and efficiency, and relationship building]. It is only by looking into the well-being of all our stakeholder groups that we can truly create sustainable and meaningful value for the organisation," he says.