Live music from a string quartet welcomed guests arriving at The Edge Billion Ringgit Club (BRC) Awards 2021 event, which took place at the Grand Ballroom of the Shangri-La Hotel Kuala Lumpur on Dec 13.
The annual gala dinner and awards ceremony made a comeback this year after a hiatus in 2020 owing to strict movement restriction measures to contain Covid-19 — the only break since The Edge BRC Awards were introduced in 2010 to celebrate the achievements of Corporate Malaysia's crème de la crème and encourage others to be successful and socially responsible.
As always, the men looked dapper in tuxedos and bespoke suits while the ladies were chic in evening gowns and fine jewellery. Many also took care to wear matching-colour masks to suit the black-tie event, which did not have the usual pre-dinner cocktail session as food and drinks were only served at the dinner table, where seating capacity was halved to comply with social-distancing rules. Guests were seen making use of individual hand sanitisers and masks prepared for them.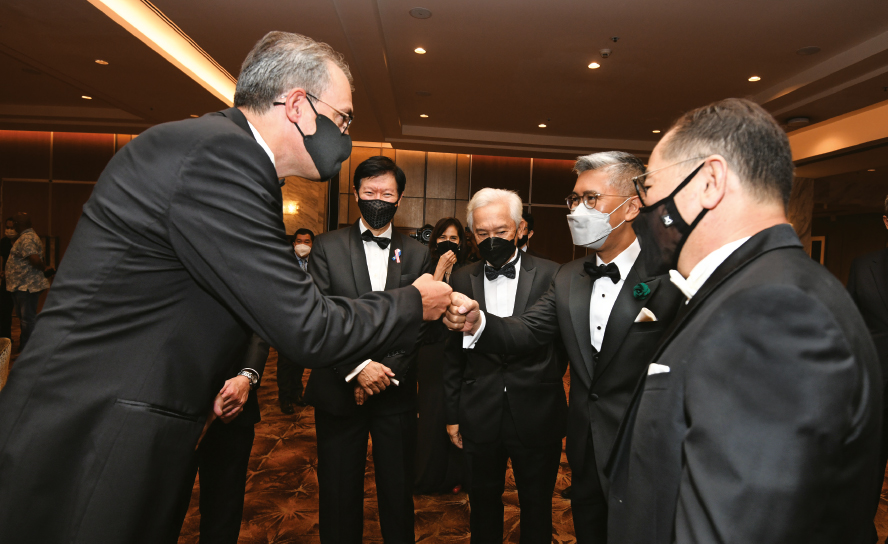 Jopp, Ong, Ho and Tong welcoming Zafrul to the Awards gala dinner
Dinner began slightly later than scheduled but guests hardly noticed that as they took the opportunity to catch up in person, just two months after the Klang Valley moved into Phase Four of the National Recovery Plan (NRP) on Oct 18. Photos taken to commemorate the occasion were taken with masks on, for the most part, in compliance with Covid-19 standard operating procedure (SOP). Guests were also seen posing with the sleek Mercedes 2022 w223 S-Class while watch enthusiasts admired the Cartier timepieces on display inside the ballroom.
Indeed, as pointed out by The Edge Media Group chairman Tan Sri Tong Kooi Ong during his welcome address, "the success of our vaccination programme has paved the way for an earlier reopening of the economy".
The evening's guest of honour, Finance Minister Tengku Datuk Seri Zafrul Aziz, apologised for arriving a tad later, explaining to guests that Budget 2022 had just been passed at the committee stage with a majority vote in parliament. He also assured members of The Edge BRC — which collectively paid RM23 billion in taxes to the government, or about half of the RM50 billion corporate tax collection last year — that the government could see green shoots of economic recovery and that additional collection from the one-time prosperity tax would be used to build the economy back better.
"This government believes in healthy and regular engagement with Corporate Malaysia to yield the best outcome for the country's economy. Tell us how we can help you perform better because that is key to the country's recovery," Zafrul said in his speech (available in full on Page 8). "Let us work together to ensure that the country, businesses and our people can stand resilient and strong in the face of future challenges."
A total of 55 awards were presented to 43 companies after dinner that evening. Zafrul presented the night's top awards, flanked by Tong and OCBC Bank (Malaysia) Bhd CEO Datuk Ong Eng Bin. Also on stage were The Edge Media Group publisher and group CEO Datuk Ho Kay Tat, The Edge Malaysia editor-in-chief Kathy Fong, Mercedes-Benz Malaysia vice-president (sales and marketing) Michael Jopp and Cortina Watch Malaysia managing director Tay Liam Khoon.
ViTrox Corp Bhd president and CEO Chu Jenn Weng accepted the trophy for The Edge BRC Company of the Year 2021 while Malayan Banking Bhd president and CEO Datuk Seri Abdul Farid Alias took home the trophy for Value Creator: Outstanding CEO of Malaysia.

From left: Jeffrey Teoh (OCBC Bank Malaysia Bhd), Sharon Teh (The Edge), Eszter Jopp, Tan Ai Chin (OCBC Bank Malaysia Bhd), Datin Karin Ho, Ho, Ong and Jopp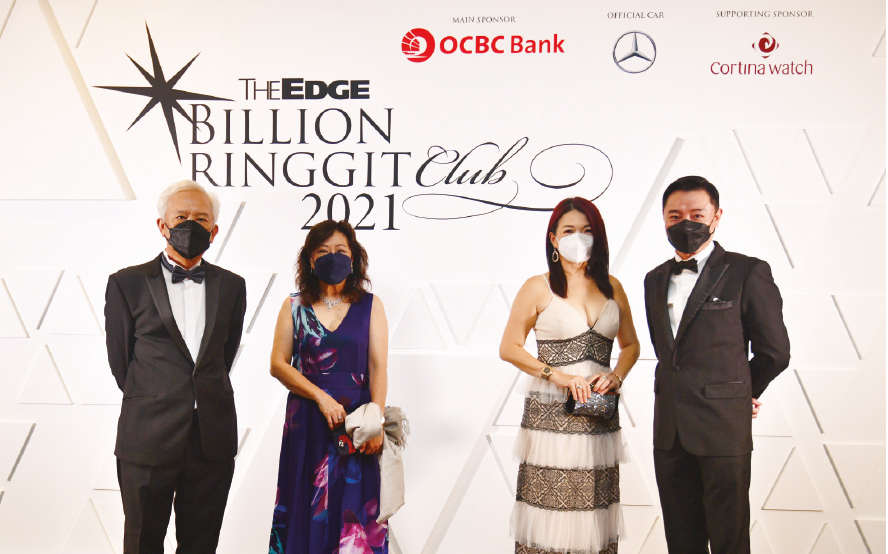 Ho, Karin, Tanny Tee and Tay Liam Khoon (Cortina Watch Malaysia) at the photo wall
Special recognition was also given to top donors of The Edge Covid-19 pandemic funds, an initiative that began in late March 2020 during the first Movement Control Order (MCO). "Within three months, we raised RM25.8 million to buy equipment for our hospitals and to provide financial support to healthcare workers infected by the virus while treating Covid-19 patients. Well done, Corporate Malaysia, and also to the many individuals who donated," Tong said.
Zafrul took his leave after the awards presentation but guests stayed on to enjoy a dessert of bittersweet chocolate tart with raspberry confit and vanilla ice cream as the night drew to a close.