Syarikat Takaful Malaysia Keluarga Bhd (STMKB) has scored its second consecutive double win in the financial services category for companies with a market capitalisation of below RM10 billion.
For the second year in a row, STMKB took home The Edge Billion Ringgit Club award for the highest return on equity (ROE) over three years. Besides that, the Islamic insurance provider also bagged the award for the highest returns to shareholders over three years.
STMKB delivered an ROE of 33.1% to its shareholders for its financial year ended Dec 31, 2019 (FY2019), following ROEs of 32.7% in FY2018 and 26.7% in FY2017. Its adjusted weighted ROE over its three financial years stood at 31.7%.
Its share price leaped from RM3.70 on June 30, 2017, to RM6.62 on June 28, 2019, after it hit an all-time high of RM6.94 on June 21, 2019. It has since retreated from its peak to RM4.45 on June 30, 2020. This translated into a total return to shareholders of 6.3% over three years, including dividends.
STMKB's shareholders have received regular dividend cheques in the past three years. It declared a dividend per share of 15 sen for both FY2017 and FY2018, and this increased to 20 sen for FY2019, with a payout ratio of 60.2%, 42% and 45% respectively.
Group profit after tax and zakat grew 25% year on year in FY2019 to RM366.3 million, on the back of an 18% growth in operating revenue to RM3.12 billion. This growth in revenue and profit was attributable to higher sales generated by STMKB's family takaful and general takaful businesses, in addition to higher net Wakalah fee income arising from its overall sturdy business growth.
In the face of a competitive market environment, STMKB achieved commendable progress via its general takaful arm, particularly through its online motor distribution channel, Click for Cover Online Sales Portal (OSP) that has witnessed a quantum leap in growth since its launch in 2018.
The group continued to develop and enhance its digital ecosystem in FY2019 to support its online distribution strategy by adopting a pricing segmentation approach to target customers, with an improved claims experience for its motor takaful product.
In addition, STMKB also tapped its established strategic bancatakaful partnerships with leading Islamic financial institutions by offering innovative online takaful solutions via Click for Cover OSP to the bank clientele.
The group also introduced a face-to-face digital-assist point of sale system equipped with a smart underwriting engine for its premier bank partners to promote and market simple protection plans directly to their customer base.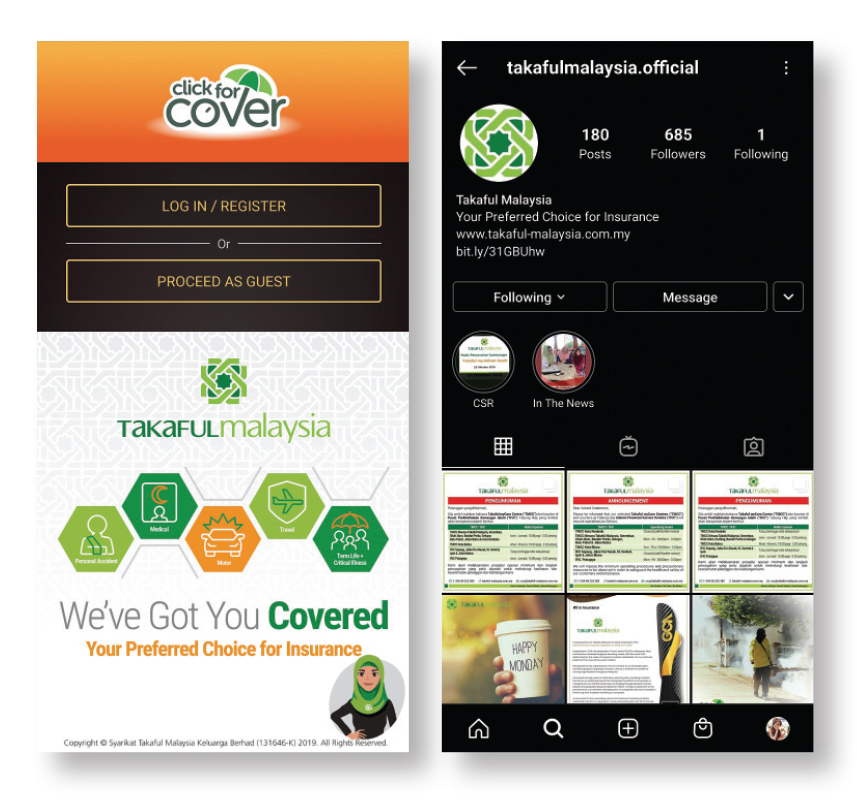 Like many other businesses, STMKB's business activities for the first half of this year were impacted by the Movement Control Order, which was implemented on March 18, and the Conditional MCO from May 4. For the first half of its financial year ended June 2020 (1H2020), the company reported a net profit of RM176.67 million — a flat growth year on year — on the back of a 10.2% decline in revenue to RM1.43 billion.
Nevertheless, RHB Research says in an Aug 26 research note that the group's 1H2020 financial performance beat consensus expectations, with 1H2020 annualised ROE at 26.8%.
As the MCO has been eased, the research firm says STMKB's business activities saw meaningful sequential improvements at the start of 2H2020 and are mostly back to pre-Covid-19 levels, with mortgage-related products and general takaful showing good sales momentum in July and August.
However, RHB Research highlights that the potential revision in the Wakalah rate from 40% to 25% may be a near-term drag on STMKB's bottom line, but expects the impact from this to be manageable for the group. The company's management has guided for a slight decrease to flat year-on-year growth for its FY2020 bottom line.
The research house adds that STMKB's dividend prospects remain intact, with management intending to maintain payout at circa 40%, subject to approval from Bank Negara Malaysia.
RHB Research has a "buy" call on STMKB, with a target price of RM6. Compared to its closing price of RM4.45 on June 30, the counter has since appreciated by 10% to RM4.90 on Oct 5.