Supermax Corp Bhd has walked away with The Edge Billion Ringgit Club (BRC) award for highest returns to shareholders over three years in the healthcare sector.
Looking at its share price performance, it is not hard to fathom how the rubber glove maker, which has also ventured into contact lens manufacturing, won the award.
This year has been a spectacular one for the disposable glove industry globally. The companies are making super profits due to the surge in demand for personal protective equipment, including rubber gloves, as a result of the Covid-19 pandemic. Given the rosy earnings prospects, their share prices have soared to the highest level ever.
The craze for rubber glove stocks has lifted Supermax's share price out of the doldrums and propelled it north. And the rally is the strongest ever it has had since listing in 2000.
The company's adjusted share price jumped from 90 sen on June 30, 2017, to RM8 on June 30, 2020 — a meteoric rise. Its share price rally continued, climbing to the peak of RM11.90 on Aug 6, as its market capitalisation reached an all-time high of RM30.71 billion. In the BRC award's 2020 three-year period, Supermax provided a stunning total return of 106.8% to shareholders.
According to absolutelystocks.com, Supermax's market capitalisation has grown almost eight times within three years, from RM1.328 billion on June 30, 2017, to RM10.331 billion on June 30 this year.
Notably, Supermax had on July 20 announced a one-for-one bonus issue, which went ex on Sept 4. This helped to fuel its share price rally.
According to Bloomberg, there is upside potential for Supermax's share price based on the consensus target price of RM12.39 after the release of its third-quarter results.
All nine research analysts who cover Supermax have recommended their clients to buy the stock, with target prices ranging from RM11.83 to RM16.50.
Suffice to say, among the shareholders of Supermax, nobody is happier than its founder and major shareholder Datuk Seri Stanley Thai Kim Sim, who was not even a billionaire before the pandemic.
It is estimated that Thai's equity interest of 38.04% in Supermax is worth about RM9.28 billion today. In comparison, the glove tycoon's net worth was RM672.59 million at end-2009.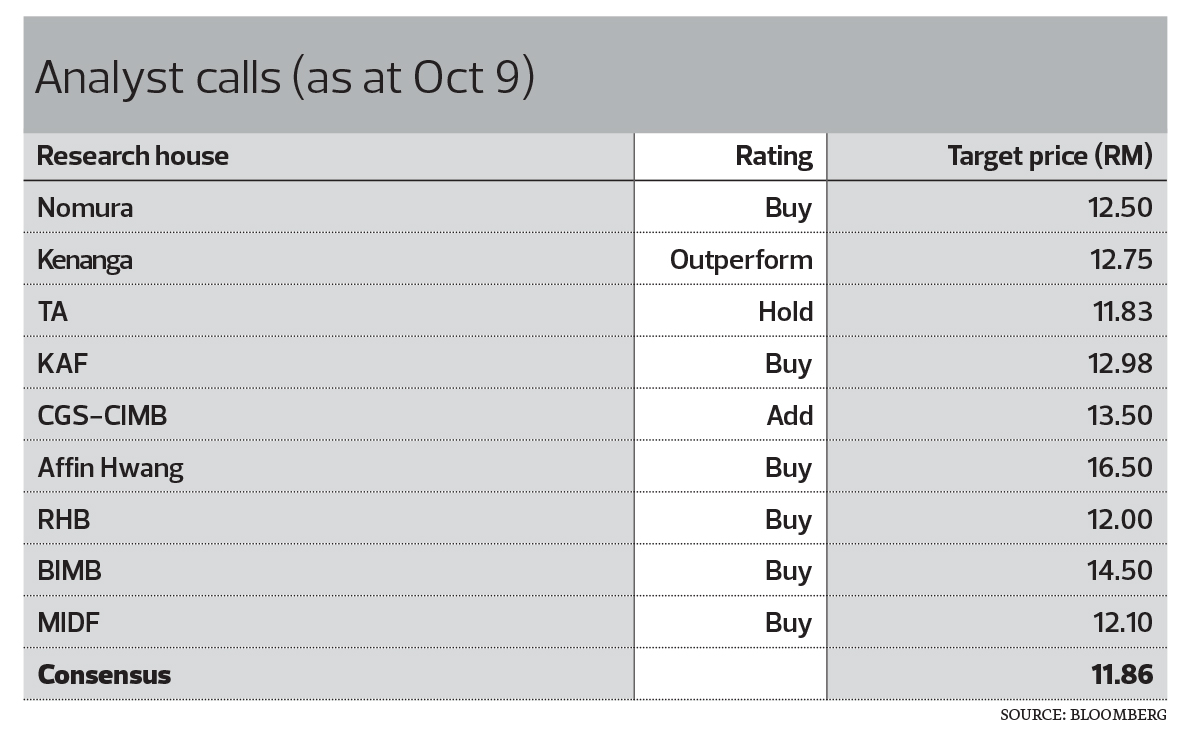 Supermax's profit was already on the rise pre-pandemic for the three-year period between the financial year ended June 30, 2017 (FY2017) and FY2019. The glove maker achieved profit after tax of RM70.29 million in FY2017, which grew to RM110.14 million in FY2018 and RM123.11 million in FY2019. Annual revenue expanded from RM1.126 billion in FY2017 to RM1.304 billion in FY2018 and RM1.538 billion in FY2019.
For FY2020, Supermax witnessed its biggest leap in earnings — its net profit jumped more than four times to RM525.58 million from RM123.11 million in FY2019.
In view of the abnormally strong demand for rubber gloves, analysts are expecting an even more powerful profit growth in FY2021. The consensus forecast is for Supermax's net profit to more than triple to RM1.718 billion in FY2021.
In an Oct 4 report, Kenanga Research analyst Raymond Choo Ping Khoon points out that Supermax has dual-stream incomes from manufacturing and distribution, as both divisions could provide higher margins.
"Supermax is getting enquiries from foreign government agencies, non-governmental organisations, retailers and restaurant chains. Amplifying the pent-up demand, buyers are paying between 30% and 50% deposits in advance to secure glove supply and timely delivery," he writes.
Choo has an "outperform" call on Supermax, with a target price of RM12.75.
Supermax had been in a net debt position of more than RM200 million over the years. With its ballooning cash coffer now, this is a thing of the past. The rubber glove maker was sitting on a net cash position of RM852.7 million as at June 30 this year, thanks to the soaring sales.
The large cash coffer begs the question of whether the company will be more generous in terms of its dividend payout.