Carlsberg Brewery Malaysia Bhd has had a good run over the last three years, growing profits at a decent rate despite a difficult operating environment and keeping shareholders happy with healthy dividends.
The brewer saw net profit grow a solid 42% over the last three years to RM291.02 million in the financial year ended Dec 31, 2019 (FY2019), from RM204.98 million in FY2016. It paid out a dividend of 100 sen each in FY2019 and FY2018, which worked out to 105.1% and 110.3% of its net profit in those respective years. In FY2017, its dividend was 87 sen a share, or 120.3% of net profit.
Its return on equity (ROE), a measure of profitability, increased from 71% in FY2017 to 118.4% in FY2018, and then on to 183.3% in FY2019, giving it a weighted ROE of 141.4% over the three years — the best in its sector.
The brewer has bagged The Edge Billion Ringgit Club (BRC) award for highest return on equity over three years in the consumer products and services sector.
This is not the first time that Carlsberg Malaysia — which produces products such as Carlsberg Smooth Draught, Danish Royal Stout and Jolly Shandy — has snagged a BRC award. Last year, it was recognised for having the best corporate responsibility initiatives in the below RM10 billion market capitalisation category.
This year, the group, which marked its 50th year of operations in Malaysia in 2019, faces its most challenging year yet. As with most other businesses, the Covid-19 pandemic and various government-imposed Movement Control Orders (MCOs) have taken a toll on the brewer's operations and earnings.
In a bid to be prudent, it has suspended quarterly dividend payments for FY2020.
For the first nine months of FY2020, its net profit fell 44% year on year to RM124.23 million on the back of a 22% decline in revenue to RM1.31 billion. Its core net profit, at RM130.6 million, came in below analysts' expectations. It made up only 65.9% of consensus full-year estimates.
The earnings miss was attributed to a weaker-than-expected recovery in beer sales, given the ongoing business restrictions on entertainment outlets. On a positive note, however, Carlsberg Malaysia's businesses in Singapore and Sri Lanka displayed resilient performances amid less restrictive lockdown measures by their governments.
For 3QFY2020 alone, the group's net profit, at RM40.63 million, represented a 41.3% y-o-y drop, but a strong 138.4% improvement from 2QFY2020.
Carlsberg Malaysia may now be at a turning point, says Maybank Investment Bank Research. "With the extension of the Conditional MCO to Dec 6 — it started on Oct 14 — domestic on-trade sales should remain suppressed, given strict guidelines for social distancing.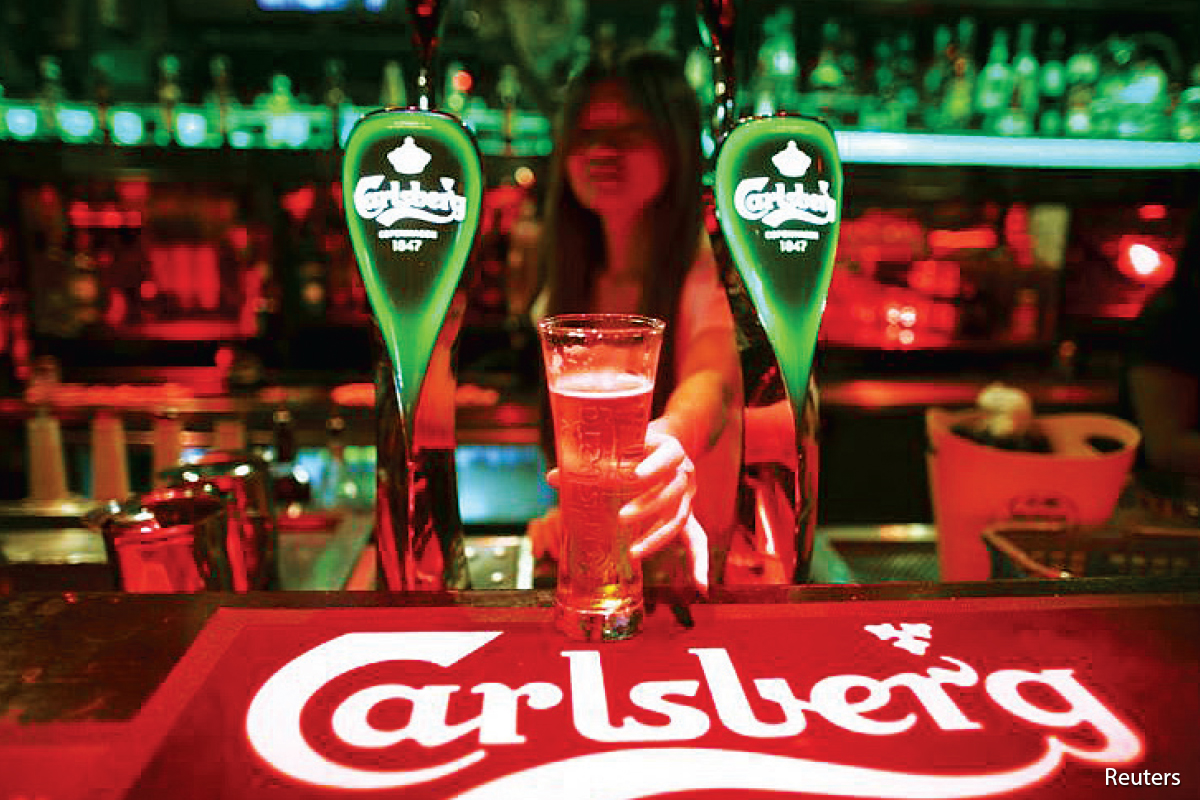 "That said, with better containment of Covid-19 cases in Singapore, its operations there may partially mitigate the group's earnings downside in tandem with the gradual reopening of entertainment outlets from Dec 20. The upcoming festive season could also spur higher off-trade sales in place of outdoor celebrations," it says in a Nov 12 report after the 3Q earnings announcement.
The research house lowered its FY2020 earnings estimates by 9% but left its FY2021/22 earnings forecasts unchanged for now. It upgraded its recommendation on the stock to a "hold" and raised its 12-month price target for the brewer by 4% to RM23.30 from RM22.10. The stock closed at RM22 on Nov 20, a decline of 25.2% YTD.
Fortunately for Carlsberg Malaysia, the Malaysian government did not increase excise duties on beer during the recent Budget 2021 announcement.
After the release of the group's third-quarter financial results, managing director Stefano Clini said: "In these uncertain times, we will continue to focus on our strategic priorities while working closely with our business partners and distributors to be highly agile and adaptable within a volatile operating environment.
"Economic and business recovery will be slow under the threat of the ongoing pandemic and we remain focused on the health and safety of our employees and customers while ensuring the sustainability of our operations in the short and long term.