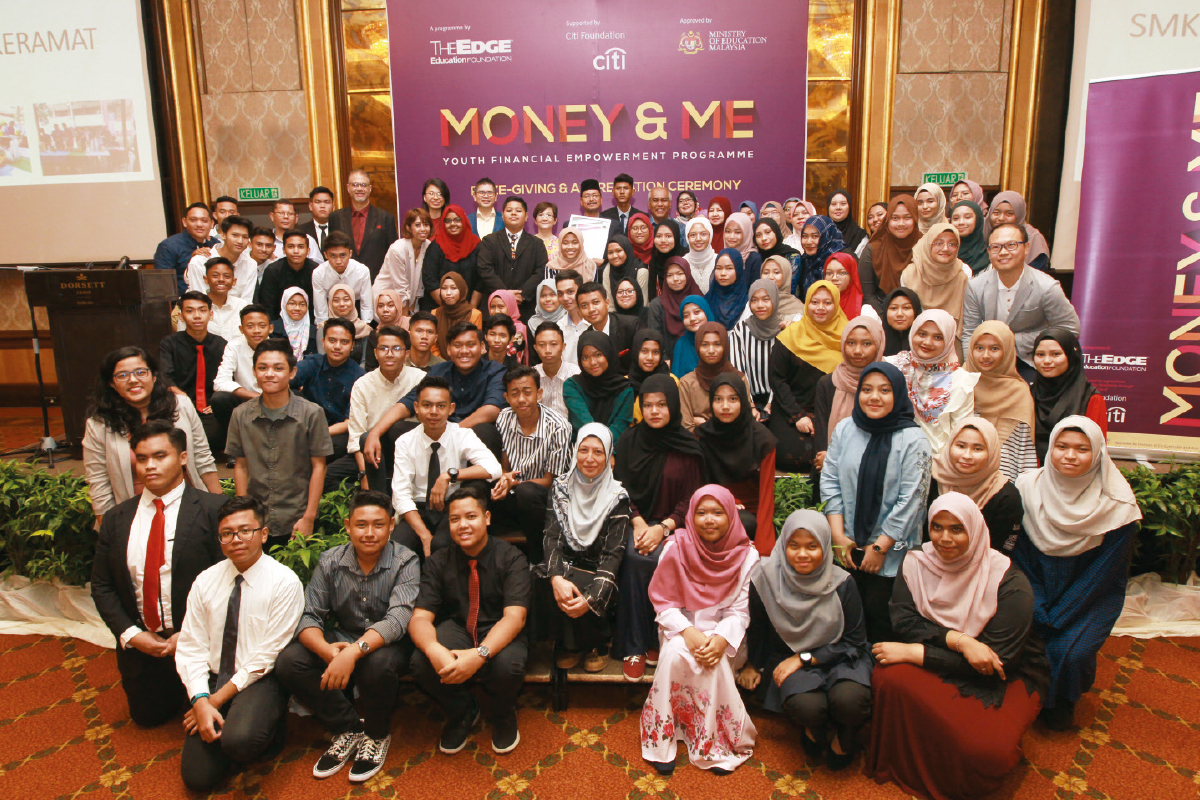 Money & Me participants from SMK Lembah Keramat at the prize-giving event on Sept 28, 2019. The school emerged tops in the Schools category of the Money & Me Young Entrepreneur Challenge.
TEEF is working on online delivery of its free financial literacy programme for schools
Covid-19 and the need to observe social distancing have affected many companies' CSR programmes and activities. It also led to The Edge Education Foundation's (TEEF) having to temporarily stop its financial literacy programme in schools.
TEEF had been running the "Money & Me: Youth Financial Empowerment Programme" in selected schools in Kuala Lumpur and Selangor since launching it at five schools in 2016. This free financial literacy cum basic entrepreneurship skills programme for Form 4 students grew to encompass 13 schools last year and 15 this year. Money & Me is approved by the Ministry of Education as a co-curricular programme for schools.
The programme, which is in English, consists of five modules — Save, Spend, Earn, Grow and Give. It equips students with financial literacy as a life skill by teaching them the importance of saving and budgeting, among other things. It also teaches basic entrepreneurship skills such as coming up with an idea for a small business, designing a simple business plan and producing a marketing video. By getting them to work in teams, the students also learn teamwork.
Participants then implement their business plan during what is called Sales Day, when they set up stalls at their schools to market their products or services (in the first two years, the students set up booths at a mall). Since 2016, Money & Me participants have racked up sales of over RM96,000 and given away about 21% of their earnings to charity.
TEEF is a small foundation, so it collaborates with partner organisations and teachers to carry out the programme in participating schools, using materials designed by TEEF with a grant from Citi Foundation, which supported the programme until last year. Our partners for this year comprised Deloitte, EY and PwC as well as BHP, GE, INTI International College Subang and INTI International University Nilai, KLK Oleo and the Rotary Clubs of Sentul and Central Damansara. EY, GE and PwC have been our partners since 2016.
Volunteers from these partner organisations facilitate the lessons at some schools fully or together with teachers. At other schools, teachers facilitate the programme fully. Unfortunately, the closure of schools and the moving of lessons online meant that the programme had to take a break this year.
Since 2017, TEEF has conducted pre- and post-programme assessment of participants to gauge the programme's impact under what we call Phase 1 impact assessment. At the end of last year, we conducted a Phase 2 impact assessment to gauge the longer-term impact on the 2016 and 2017 alumni and managed to survey 81 participants, about 26% of the total number for those two years. The results show that the programme's impact has been lasting, with alumni surveyed continuing to practise good financial behaviour.
Highlights of the survey
91% of the respondents are still studying, with 51% of these enrolled in diploma courses and 21% in degree courses;
94% agree or strongly agree that knowing how to manage money is important, with 72% strongly agreeing;
93% agree or strongly agree that it is important to start saving for retirement as soon as one starts working, with 58% strongly agreeing;
77% say when they receive money, they always plan how it will be used;
78% say they have a budget of their income and expenditure, with 51% saying that most times, they can keep to their budget;
42% say they never spend more than they have while 43% say they sometimes do and 15% say they always do;
99% say they save, with 35% putting aside money to save on a daily basis, 38% on a weekly basis and 26% on a monthly basis;
53% say they save a certain amount of money and spend what is left while 46% say they save what they have left after spending (Money & Me teaches participants to "pay themselves first" and that they should spend what is left after saving);
90% agree or strongly agree that the Money & Me programme was a good introduction to how to do a small business, with 38% agreeing and 52% strongly agreeing; and
33% say they have plans to start a small business in the next one to three years.
These findings are a strong motivation for us to continue the programme next year.
Currently, the TEEF team is working on converting as much of the Money & Me materials as we can for Google Classroom. Since the pandemic, students and teachers have become familiar with Google Classroom, which will enable volunteers to facilitate lessons in person in the classroom or virtually.
By making it possible to deliver the programme online, we hope to be able to expand Money & Me beyond schools in the Klang Valley. And by making the materials more interactive and involving the students in a higher degree of self-learning, we hope to encourage greater engagement on their part.
To make this possible, however, schools will need good internet access and IT facilities, and that is something beyond our control.
Cekap Duit
Other than Money & Me, TEEF also has another financial literacy programme called Cekap Duit: Cakap Tentang Duit, which it co-designed with local NGO Malaysian CARE. This Bahasa Malaysia programme, based on Money & Me, is aimed at an out-of-school audience.
Malaysian CARE launched Cekap Duit in Sekolah Integriti Kajang (SIK), a school for juvenile delinquents at Kajang Prison, in 2017 with 25 participants. When SIK moved to the Puncak Alam Correctional Centre, the NGO continued Cekap Duit there and the programme is now in its sixth cycle, albeit with far fewer participants.
SOLS 24/7, another local NGO, has also adopted Cekap Duit as a co-curricular programme in its Academy of Innovation (SOLS.ai). It introduced the programme in January this year to a group of 58 students taking courses such as solar energy, the JPK Accredited Computer Class and project management at its Youth Development Centre in Segambut and concluded the programme in March, just before the Movement Control Order was imposed. Most of the students, aged between 17 and 25, are Orang Asli.
The effects of Covid-19 on the economy as well as livelihoods make financial education and learning basic entrepreneurship skills even more necessary for young people. Will you join us in making this possible?
---
Dorothy Teoh is the CEO of The Edge Education Foundation