Many may think that Petronas Dagangan Bhd (PDB), a subsidiary of national oil firm Petronas, has the upper hand on its home turf against its rivals — the retail arms of the global oil majors.
But PDB's management would disagree to a large extent simply because local companies, in general, are required to walk the extra mile to build consumer confidence in their brands. In PDB's case, it was even tougher as it is going against established international brands.
It was set up in 1982 to drive Petronas' foray into the retailing and distribution of petroleum products, such as petrol, liquefied petroleum gas (LPG) and jet fuel, to end-users. Twelve years after that, PDB floated shares on Bursa Malaysia (then known as the Kuala Lumpur Stock Exchange) at an initial public offer price of RM2.80 per share in August 1994.
Its share price hit a record of RM27.82 in early November this year — nearly 10 times its listing price. That speaks volumes of the stock.
The company has made great strides over the years and made Petronas a household brand. An increasing number of car drivers would have the Mesra card, a royalty programme for customers who pump petrol at PDB's petrol stations.
It currently operates 1,000 petrol stations. Seven hundred of them have Kedai Mesra — making them a one-stop centre for fuelling, shopping and banking for motorists across the country.
PDB's four core businesses are retail, commercial, LPG and Lubricants. It invests extensively in research and development (R&D) to ensure that it continues to offer a wide range of internationally-recognised high-quality petroleum products including motor gasoline, aviation fuel, diesel, fuel oil, LPG, kerosene and asphalt.
Together with Mercedes AMG, it makes Petronas Syntium engine oil that powers Mercedes AMG Petronas F1 racing cars.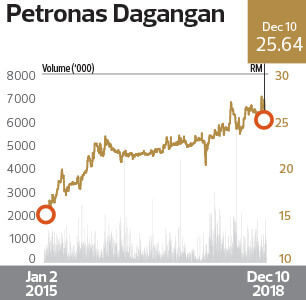 Its impact is not confined only to Malaysian highways and F1 tracks around the world. That said, PDB is proud that Syntium is powering the Mercedes-AMG Petronas Motorsport team — the world champions for five years since 2014. Providing the fuel for the leading FI team is another milestone that speaks well of Petronas' downstream products.

Bumper profit and generous dividend
After a drastic fall in its earnings in the financial year ended Dec 31, 2014 (FY2014), PDB's profit has been on the rise and has hit new highs since then.
Profit after tax (PAT) dropped to RM502 million in FY2014 — the lowest level since FY2005 — compared with RM812 million the year before. The sharply lower earnings were mainly caused by the meltdown of crude oil prices. PDB suffered from margin compression due to the sharp decline in selling price, in line with the fall in Mean of Platts Singapore (MOPS) prices.
Nonetheless, in the following years, its earnings growth revved up like a racecar on a F1 track.
In FY2015, PDB's PAT bounced back to RM790 million, jumping 57.3% year on year. The upward momentum continued over the following two years. It achieved a record-high PAT of RM945 million in FY2016, up 19.6% y-o-y, and another big leap of 62.8% to RM1.54 billion in FY2017.
The impressive PAT growth in the three financial years between FY2014 and FY2017 translates into a 3-year CAGR of 45.3%.
Earnings per share (EPS) ballooned during the financial years under review. PDB achieved an EPS of 79.5 sen in FY2015, which expanded to 95.1 sen in FY2016 and RM1.55 in FY2017.
Given the record-breaking profit, PDB has been generous in declaring hefty dividends to reward its shareholders.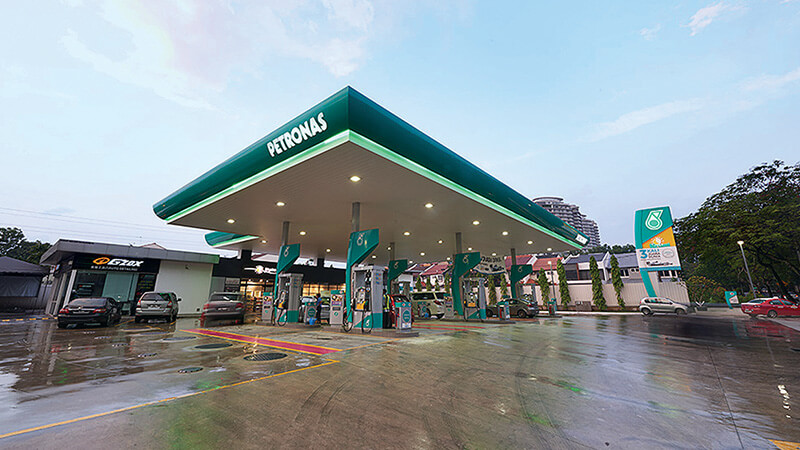 It adopts a dividend policy of 50% of its PAT after taking into consideration various factors, such as the company's affordability, future capital requirements and projected cash flow. The payout ratio was 79% in FY2015, 81% in FY2016 and 78% in FY2017.
PDB shareholders received a dividend per share of 97 sen — an interim dividend of 75 sen and special dividend of 22 sen — in FY2017, which was the highest in five years. The total dividend payment came up to RM963.7 million.
The group declared a dividend per share of 60 sen in FY2015 and 70 sen in FY2016. In short, shareholders are laughing all the way to the bank, receiving a total dividend of RM2.27 between FY2015 and FY2017.
Apart from that, they are are also enjoying capital appreciation. PDB's share price has climbed 32.5%, from RM18.48 on June 30, 2015, to RM24.49 on June 29, 2018.
For the three financial years under review, PDB is the listed entity that has paid out the most dividends to Petronas. Its sister company, Petronas Gas Bhd, paid a total dividend of RM1.80, compared with
64 sen for Petronas Chemicals and 90 sen for MISC Bhd.
The group's market capitalisation has more than doubled from RM11.6 billion in 2010 to RM25.5 billion.